5 Easy Steps To Order Your Pure Persona By Nana Discovery Kit
Ordering the Pure Persona By Nana® Discovery Kit is super easy and you can do it from anywhere in the world at any time. 
Meet Dora and Carol! These lovely ladies play a very active role in the Pure Persona By Nana® team to make sure that we are able to take care of all the many clients that keep turning up for us each day. Dora is our Customer Relations Manager and Carol is our Community Manager here at Pure Persona. 
What are they going on and on about? 
They are discussing how to order your Discovery Kit and how to be sure to get it any and everywhere in the world. 
The Discovery Kit is Pure Persona By Nana®'s maiden product. It is an organic hair care product kit that offers all the nutrients and goodness that is needed to care for, repair and maintain naturally healthy hair. 
Ordering the Discovery Kit is super easy; follow these 5 easy steps and the Discovery Kit is yours; 
1. Go to our website www.purepersona.com and click purchase.
2. Click Buy Now and enter all the required details; your name, shipping address and email address. 
3. If you are in Accra, Ghana there is a pick up option. You will be able to pick up from our offices. 
4. After you've selected your Delivery option, continue to payment and fill out all required information. 
5. Complete your order and you have the option of paying via credit card, debit card or Mobile Money. For all our tribe members who want it delivered the delivery charges are included in the total to be paid at check out. 
And that's it! Your Discovery Kit has seen ordered and depending on your location you should be enjoying easy wash days within 2 - 5 working days.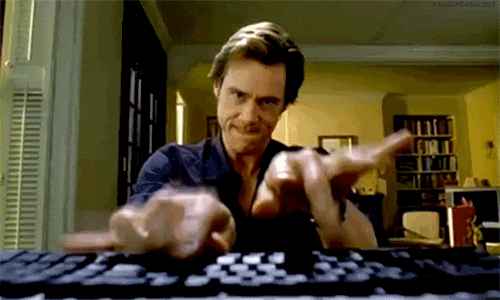 Be like this aggressive shopper (Jim Carey) and order your Discovery Kit now. 
We hope Dora and Carol were able to enlighten you and bring you some joy today. 
Follow Pure Persona by Nana® on Facebook, Twitter, Instagram and Pinterest to be inspired to live the life that you know you deserve. Don't miss out on everything Pure Persona so sign up for our newsletter and you'll be glad you did.